I look at the vanitas works. I love the idea of Damien Hirst, this dialogue with diamonds, that stuff about jewel, completely vain precisely, and also... "immortal" ... no... "eternal", right?
I also like very much the Jan Fabre's one, its arrogance, its vitality ...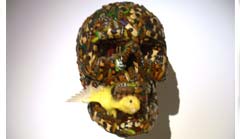 Yet I have something else in mind. Something simple. I feel that facing death ought to be delirious, since death doesn't even exist as an entity ...
I don't know. Skulls seem to be already inflated by a lot of... how can I say... projections... It could be interesting to calm it down... Don't add in delirium and anxiety... strip it... clear up the force of it...
My effort will consist in not deploying efforts, such as proving that I exist. I'll try that. It can even be quite exciting ...